Most of us will surely agree that applying a fresh coat of paint is the fastest and easiest way to rejuvenate or freshen up your home. From painting a your room to changing the hue of your exterior walls, painting is one home development technique that is both cost efficient and produces instant results.
But, painting your home's interior and exterior walls and trim can give you more than you'll ever know. Getting a new coat of paint can drastically change the mood and style of your own space. Paint will create a great appearance with splashes of bold color, or it can be a soft backdrop to a more muted interior. Keeping a fresh coat of paint on walls and trim can also keep the people living in there healthy. Painting also guards your walls. An interior paint job will always protect your house as well as building materials and will prevent you from spending more for repairs in the long run, while boosting the home's interior's ability to protect itself from creepy crawlies and other factors that will cause the wall to deteriorate. Another reason is that it can increases the home value, applying paint in the interior walls, trims, ceilings, and other surfaces will actually increase the total value of your home in the real estate market because a paint job improves the curb apparel, which makes the home more appealing to the potential home buyers. This helps in valuation of your asset and gives you an advantage when the time comes that you want to sell your house. Moreover, a good and high standard paint coat on room walls can get rid any issues related to harsh weather condition that comes from exposure to rough weather condition.
Improving your home makes your interior walls look cleaner and feels like brand new inside. If the interior paint job is done properly, it will be enough to cover up all permanent marks and stains and will give the walls a fresh new look.
Choose a color that will best fit the style that you want. Please take note where the light source in your room comes from, light reflection can drastically affect how the color appears. Light from sunshine will show different shade of the room compared to room filled with light from a bulb or an incandescent. Neutral tones can be used to create a warm and inviting feeling. Just another tip, light paint hues can make a small room or interior space to look bigger and can make the living space feel more energetic and look more lively.
Using interior paint with low or zero VOC at all is even better because it is safe for human health and the environment, fresh paint coat will enhance the air quality inside the room. Eco friendly paint helps to keep out air pollutants inside your home. Lastly a quality paint job keeps the moisture away from your interior space.
Everything that is mentioned above will only make sense if the paint job is properly applied. But what is the proper way of painting a room? What should go first?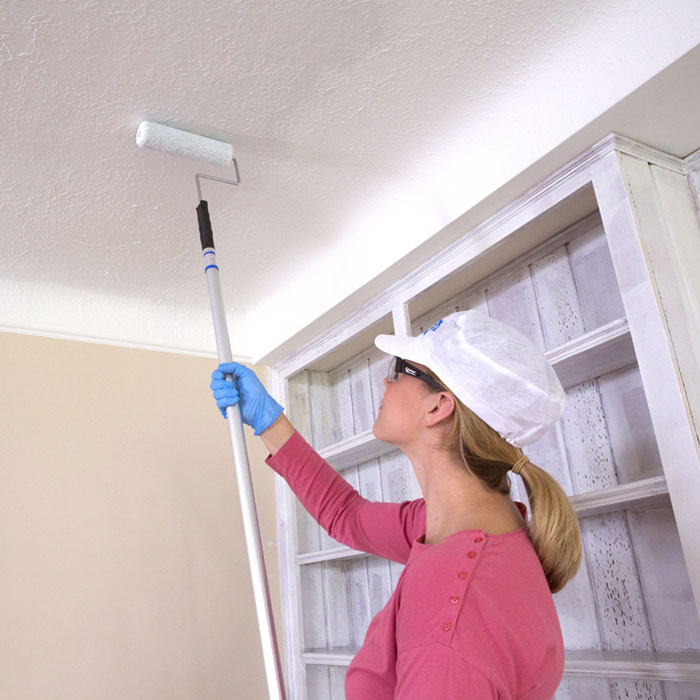 1) Prepping a Room Makes a Big Difference
Almost everyone knows that painting is much easier when you are working in a spacious room. It simply means empty out the room, if possible temporarily rent a storage for your stuffs. If you are painting your living room, move large furniture pieces away from the walls bring them to the center and cover them up with old sheets or drop cloths to protect them prom paint stains.
In all painting job cleaning before starting the painting session is a must. Make sure to properly clean the ceilings and the walls to remove dust and dirt build up. Remove old blistering paint if needed.
2) Sand all surfaces
Work your way from top down. Sanding makes a smooth, even foundation that will enhance the final finish of paintwork. You also need to fill in any nail holes or cracks using spackling paste, as well as tape off adjacent walls, window trim, and light switch or outlet covers. Use drop cloths, newspapers, or a roll of paper to cover the floor. If there are still remaining rough surfaces sand them well. Then vacuum clean all surfaces in the room from ceiling to floor. Here's how to properly sand surfaces.
3) Paint the Ceiling
The ceiling should always be painted first. This allows you to effectively cover the surface with at least two coats another reason why you should paint the ceiling first because it is the area in which you have the least control when rolling, and it's fine if you get a little paint drips on the walls, because you're gonna paint them next anyway.
4) Roll down the walls
Once the ceiling paint has dried, the walls needs to be cut and rolled with at least two coats and for stubborn areas needs to be primed as well before applying the top coats. It's fine to have the trims stained, this will be resolved in the next step.
5) Skirting Boards
This part here needs to be painted using semi gloss or high gloss finish. Cut in to ensure the line.You can use masking tape or painters tape to cover the area right above the trim. Just make sure that the wall paint has dried first before cutting in.
6) Windows and door frames
Then work on the windows and door frames, and they are much like the skirting boards. In every project preparation is always a must. Make sure that all nail holes are filled with spackling paste, that the edges of the frames are properly caulked against the wall and that all rough edges are sanded down before you apply the finish coat.
7) Lastly the doors
When painting doors you have two option to remove them or to paint them in place. But for best result it is always better to remove the door and lay it flat to avoid runs and drips. Here's how to efficiently paint doors.
Now that you already know how to paint a room in orderly manner. You are now ready to do the transformation of your room anytime you want!